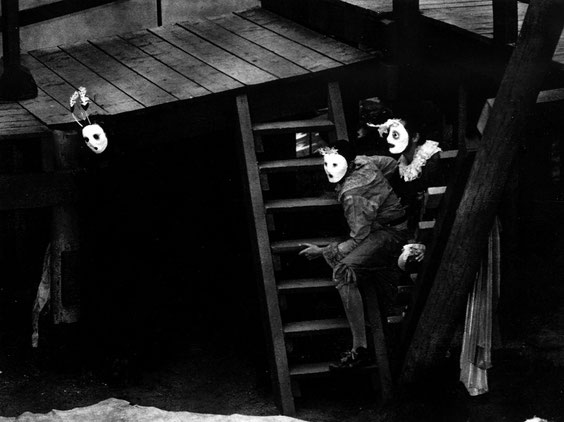 …get down to one of the most energetic, inventive, theatrical events on the fringe. Between the rainbow planks of London's largest adventure playground, The Hush Hush ensemble weave the magical madness that is "The Tempest"…-Charmed, like part of the shipwrecked crew, we watch wide-eyed as on every side, at every height, the omnipresent spirits of the isle entrap us with haunting songs and quirky movement. Unfettered by setting or audience expectations the production is strikingly original without ever being twee or clever-clever… Hush Hush have captured the essence of "The Tempest more acutely than many a production employing the whole shebang. In the thick of urban hardship, here is theatre as it should be: free, fresh and fun.
(Sara Abdulla - Time Out, June 1995)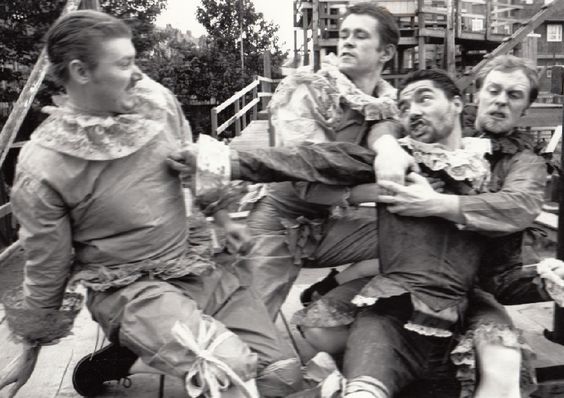 …the Hush Hush Ensemble creates real energy and conjures up dreamlike imagery in this most basic of settings…Director Stephen Sheridan has squeezed everything possible from such humble resources. There is also some fine detailing, such as great masks, which add a magical air. At the end, it wasn't just the evening chill which gave the audience goose pimples. The final scene was carried off beautifully. On this evidence Hush Hush could soon be making a big noise in theatre.
(Derek Smith - The Stage, June 1995)
…this open air production is so enthralling that gusting winds, splitting rain and darkening skies only serve to add an extra dimension to Christopher Marlowe's titanic tale about unbridled ambition…. And all credit to director Stephen Sheridan and his cast, mostly dressed in strange off-white sci-fi costumes resembling something out of Flash Gordon, for allowing the drama itself to dominate and resisting the temptation to get too carried away with this forest of poles…. Notable amongst a host of ideas is the introduction of an ever-present figure of Death abseiling from the wooden structure to be in at each kill and hovering victoriously over the closing scene of destruction wearing a huge, black, wing-like arrangement… Terrific stuff and a fringe must- but take a mac and pray for a stormy night.
(Roger Foss - What's On, July 1996)
"Twelfth Night" by William Shakespeare. The Hush Hush Ensemble, St Paul's Church, London.
…It is the only recent Shakespearean production which manages to combine feather boas, bowler hats and a pulpit. The action takes place inside St Paul's Church, Deptford. Helpers carefully check glossy brocade smoking jackets for rogue lint which might take the shine off the flamboyant scene… The dialogue has not been modernised, but the emphasis is on making Twelfth Night camp, outrageous and "a bit silly".
…full of the exciting theatricality we have come to expect from this vibrant local company.
(The Deptford Kite, December 1995)
Pared down from the standard folio to just one-and-a-half hours in duration, the Hush Hush Ensemble's production is a frantic affair, speeding through the cross-dressing character's queer affairs of heart…. A racy, pacy production of a seasonal standard.
(Shuet-Kei Cheung, South London Press December 1995)
You've heard of theatre-in-the-round but this is theatre in the around, because it happens all around you. 'We're using the balcony for street scenes but we decided against swinging from the chandeliers for the swordfight because the Rector might not like it'.…
For "Twelfth Night" designer Uwe Framenau has devised 'top hats and tails with tights- it's quite elegant but they have to be able to jump around.'
(Cedric Porter – South London Press, December 1995)